Sarah's Jump Chute
On 1st July 2018, Coughlan's own Sarah Keen completed a 10,000 ft Tandem Skydive to raise money for Sobell House Hospice Charity, to help those who need support during end of life care.
Sobell House Hospice is dedicated to providing specialist palliative care and support to adult patients and their family, friends and carers.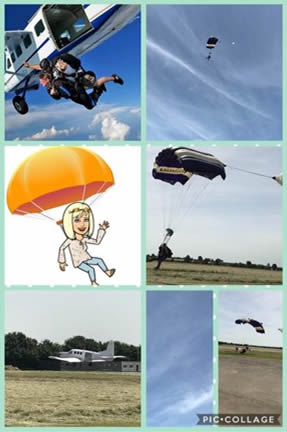 This cause is especially close to Sarah's heart as her Sister, Gina, sadly passed away from Cancer in 2011. During this time, Sobell House became part of her life, enabling Sarah and her family to live with Gina in the hospice for 4 week while her time began to slip away.
Sadly, Sarah was later diagnosed with breast cancer herself in 2012 but since then has been fighting to raise awareness and support by taking part in events like this.
Sarah has already raised over £2,000 for Sobell House but providing palliative care is not easy and every penny raised for Sobell House counts.
If you'd like to support Sarah and Sobell House, please visit her JustGiving page where you can make a donation.